The Director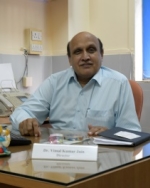 Dr. Vimal Kumar Jain took over as the Director of UM-DAE Centre for Excellence in Basic Sciences on 18th October 2017 (AN)`
Born on 1st August 1956; B. Sc. (1974) from Agra University; M. Sc. (Organic Chemistry) (1976) from Agra University; Ph. D. (1981) from Rajasthan University, Jaipur; Post-doc (1981-1984) at University of Guelph, Ontario (Canada), joined as Scientific Officer (SD) (1984) in Chemistry Division, Bhabha Atomic Research Centre where elevated to Head Chemistry Division and Distinguished Scientist.
Research and major contributions
Research interests include: organometallic and metalloorganic chemistry of platinum group metals and main group elements, design and synthesis of molecular precursors for inorganic materials, multinuclear NMR spectroscopy and high purity materials; author/ co-author of ~350 research papers including more than a dozen review articles published in international peer reviewed Journals; supervised the thesis work of 26 Ph.D. and 7 masters' degree students.
Recognitions
Elected (1995) Fellow of the National Academy of Sciences, India; Young Associate of the Indian Academy of Sciences (1988-1991); National representative of IUPAC, a Fellow of IUPAC and Royal Society of Chemistry (U.K.); member of Editorial Boards of a number of scientific journals; co-edited (with Dr. K. I. Priyadarsini) a multi-author book 'Organoselenium Compounds in Biology and Medicine' published by the Royal Society of Chemistry, UK. President, Indian Chemical Society (Mumbai Branch) (2005- 2006); President: Society for Materials Chemistry (April 2016- March 2019); Convener for ISMC-2014, ISMC-2016; Member: Program Advisory Committee (PAC) (2001-2007) Inorganic Chemistry, DST; Member: Program Advisory Committee (PAC) (2005 - 2008) for International division of DST in the area of catalysis and chemical sciences, member and subject expert for numerous promotion and selection committees; executed several national and international scientific projects; Raja Ramanna Fellowship of DAE (Dec.2016- Oct-2017).
Awards
Received several awards which include: Bruker NMR Award for the Young Scientist (1989); International Scientific Exchange Award" (1993) of NSERC, Canada; Homi Bhabha Science and Technology Award (1996)" of Department of Atomic Energy; Royal Society of Chemistry Journals Grants (1999) for International Authors to visit Oxford University; Prof. S. S. Sandhu Award (1999) of the Indian Chemical Society; Chemical Research Society of India Medal (2001); Prof. Priyadaranjan Ray Memorial Award (2006) of the Indian Chemical Society; Group Achievement Awards (2009) and (2014) of Department of Atomic Energy; Prof. W. U. Malik Memorial Award (2012) of Indian Council of Chemists; Dharamsi Morarji Chemical Co. Visiting Fellowship (2013) of Institute of Chemical Technology, Mumbai; Vigyan Ratan Award (2017) of Gyan Sagar Science Foundation.